As of 30 June 2021, environmental water had invested in and held 143 water projects, commanding a total investment of approximately RMB25.747 billion. It also secured 4 EPC projects and 2 O&M projects. These projects are designed to have an annual waste water treatment capacity of 2,079,259,000 m3, an annual reusable water supply capacity of 88,184,000 m3, and an annual water supply capacity of 310,250,000 m3.
Projects in Operation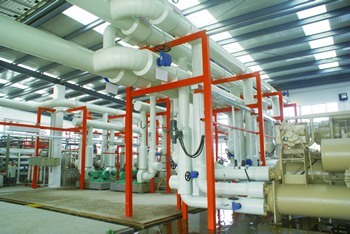 Zibo Waste Water Source Heat Pump Project Phase I and Zibo Ceramic Technology Development Park Heat Pump Project extract thermal energy in the water discharged by waste water treatment plants to power air-conditioning in the summer and heating in the winter for buildings located approximately 295,000 m2 within the area. Of which, the Zibo Waste Water Source Heat Pump Project Phase I had previously won the 4th China International Achievements in Building An Environmentally-Friendly Society.