As of 30 June 2021, environmental water had invested in and held 143 water projects, commanding a total investment of approximately RMB25.747 billion. It also secured 4 EPC projects and 2 O&M projects. These projects are designed to have an annual waste water treatment capacity of 2,079,259,000 m3, an annual reusable water supply capacity of 88,184,000 m3, and an annual water supply capacity of 310,250,000 m3.
Projects in Operation
Project
Service Scope
Total Investment
(RMB Million)
Jiangsu Province
Nanjing Municipal Water PPP Project
Provide a number of treatment projects, and operation and maintenance works in the areas of river water quality improvement, river dredging, river training, river outfall remediation, river widening, transect restoring, riverbank greening and riverside environment management.
275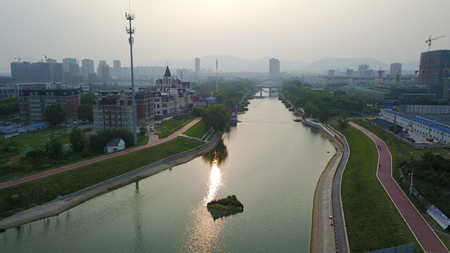 Nanjing Municipal Water PPP Project is Everbright Environment's first river training project. By providing a series of river training services, such as river dredging, outfall remediation and riverside environmental management, the project plays an important role in improving the water quality of the Chengnan River basin in Pukou District of Nanjing City.
Projects in Construction
Project
Service Scope
Total Investment
(RMB Million)
Jiangsu Province
Zhenjiang Sponge City Construction PPP Project
A number of projects, including rainwater pump stations, drainage networks, rainwater storage tanks and the ecological restoration and repair of certain rivers. The project also includes waste water treatment projects with a total daily waste water treatment capacity of 200,000 m3.
1,385
(in addition to a RMB1,200 million subsidy from the PRC central government, making the total investment of RMB2,585 million)
Guangxi Zhuang Autonomous Region
Nanning Shuitang River Integrated Restoration PPP Project
River training, interception of polluted flow in rivers, river ecological restoration, sponge city construction, environmental landscaping and information management within the planned red line of the Shuitang River area. In addition, the Project includes the construction and operation of a waste water treatment plant with a designed daily treatment capacity of 40,000 m3.
1,466