18 Jul 2021
Everbright Environment Takes First Place in Top 50 Environmental Enterprises in China for Third Consecutive Year
China Environment Chamber of Commerce (CECC) recently released the ranking of 2021 Top 50 Environmental Enterprises in China (the "Ranking"), with China Everbright Environment Limited ("Everbright Environment" or the "Company") ranked the top again for the third consecutive year.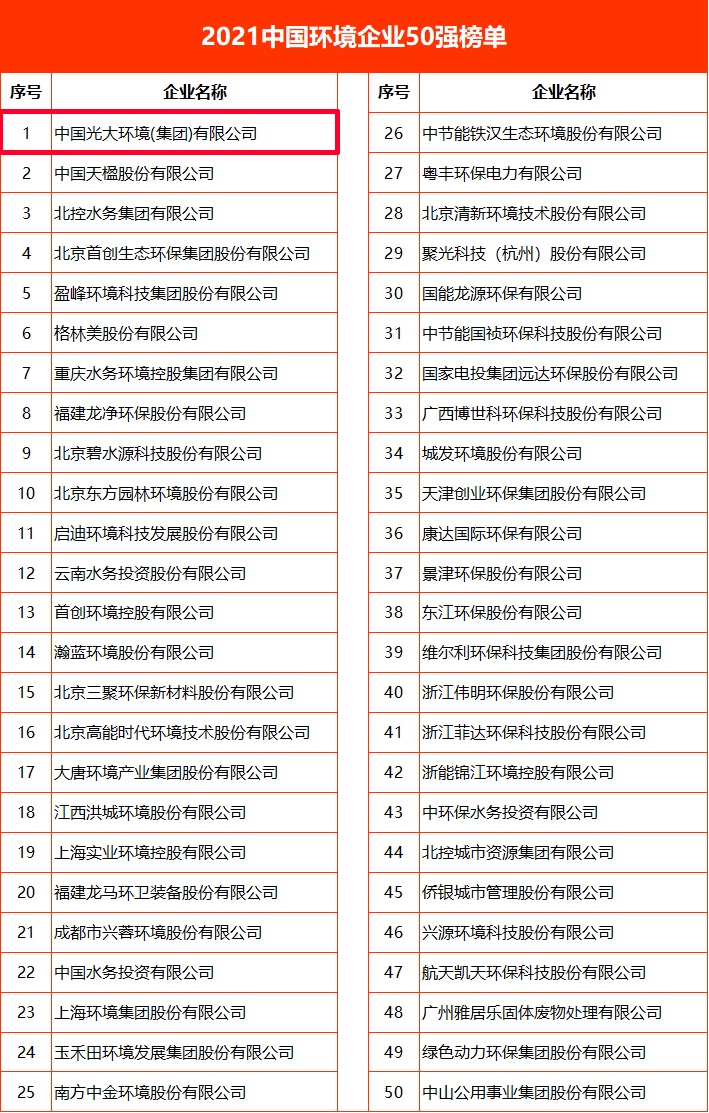 Based on the research of scaled environmental enterprises by CECC, the Ranking was composed according to the descending sequence of each enterprise's revenue in 2020. Among the 50 enterprises in the Ranking, there were 33 A-share listed companies, ten H-share listed companies, one Singapore listed company and six non-listed companies. A total of eight enterprises from the Ranking reported their revenues having reached RMB10 billion each. Taking the first place in the Ranking, Everbright Environment reported a revenue of RMB38.173 billion.
In 2020, under the significant centurial changes in addition to the COVID-19 pandemic, the global economy was in deep recession, which necessitated the China environmental protection industry to undergo an in-depth revolution, while competition remained fierce. Under the complicated internal and external environment, as well as the unprecedented challenges, Everbright Environment bravely stepped out from its comfort zone, and steadily executed its "Three Five Eight Seven" development strategy. With all businesses progressing concurrently, the Company's main business sectors retained their advantages, and emerging business sectors develop actively. As at the end of 2020, Everbright Environment maintained a presence across 23 municipalities, provinces and autonomous regions, in addition to overseas markets including Germany, Poland and Vietnam, having secured over 450 environmental protection projects in total. The Company recorded total assets of RMB133.136 billion, representing an increase of 25% year-on-year ("yoy"); an annual revenue of RMB38.173 billion, an increase of 16% yoy; and a net profit of RMB6.427 billion, an increase of 15% yoy. The two key financial indicators, namely revenue and net profit, remained top in the industry for three consecutive years. Compared with five international environmental groups, Everbright Environment was the only enterprise to deliver positive growths in both revenue and net profit.
Being the priority in the "Four Three Three" strategic deployment of China Everbright Group Ltd., Everbright Environment has been making remarkable progress since 2018, with major business indicators continuing to grow steadily. The Company's revenue and total assets increased by 120% and 118% respectively in 2020, as compared with 2017, indicating fulfillment of the Company's goal of doubling its scale within only three years, similar to creation of another Everbright Environment in the process. Currently, Everbright Environment is the world's largest waste-to-energy investment operator, China's largest environmental enterprise, Asia's leading environmental protection enterprise, and a world-renowned environmental group. The Company was granted the China Ecological Civilisation Award and was among the Top Ten Case Studies on Public Participation for the "I am the Enabler for a Beautiful China" campaign. In addition, it received a number of important recognitions, including one of the Top Ten Firm with Highest Corporate Governance Index Scores, the Model Unit for Excellent Corporate Culture in the New Era, and the first place in Top 50 Environmental Enterprises in China for three consecutive years. Being recognised as the Most Honored Company in Asia for four consecutive years, the Company has been included in the Dow Jones Sustainability Indices for five consecutive years and the Hang Seng Sustainability Index for seven consecutive years. It also topped the list of the top 10 Influential Solid Waste Treatment Enterprises in China for ten consecutive years.
Facing future opportunities and challenges, Wang Tianyi, Chairman of the Board of Everbright Environment, said that Everbright Environment will adhere to the original mission of being "Devoted to Ecology and Environment for a Beautiful China". It will uphold the core value of "Creating Better Investment Value and Undertaking More Social Responsibility", and focus on the new development opportunities brought by the "Double Carbon" goal. Meanwhile, the Company will insist on pursuing innovation, solidifying its existing strength, and reducing pollution and carbon emissions, so as to fulfill its "Three Carbon" action plan, with the goal of "becoming a carbon negative enterprise", "developing zero carbon factories", and "pursuing low carbon lifestyle". Everbright Environment will also strive to become a world-leading ecological and environmental group, by accelerating its strategic transformation and technological innovation, while continuously promoting high-quality development.