14 Dec 2022
Everbright Greentech Reaches a Coorporation Framework Agreement with Government of Lianshui County, Huai'an City, Jiangsu Province to Jointly Promote Development of "Low-Carbon City" and "Zero-Carbon Park"
Hong Kong, 14 December 2022 – China Everbright Greentech Limited ("Everbright Greentech", or the "Company") (SEHK: 1257.HK) is pleased to announce that the Company has recently signed a cooperation framework agreement with the government of Lianshui County, Huai'an City, Jiangsu Province, to develop "low-carbon city" and "zero-carbon park". The agreement aims to further enhance the urban and rural environment and sustainable industrial development of the region in response to the relevant policies of the national "dual carbon" strategy, promoting cooperation in key areas as well as coming to a consensus on project development and construction. With Everbright Lianshui Biomass Heat Generation Project as the backbone, the Company is introducing a "zero-carbon park" model and creating a "low-carbon city" demonstration area, which will improve the comprehensive competitiveness of the region's smart energy industry.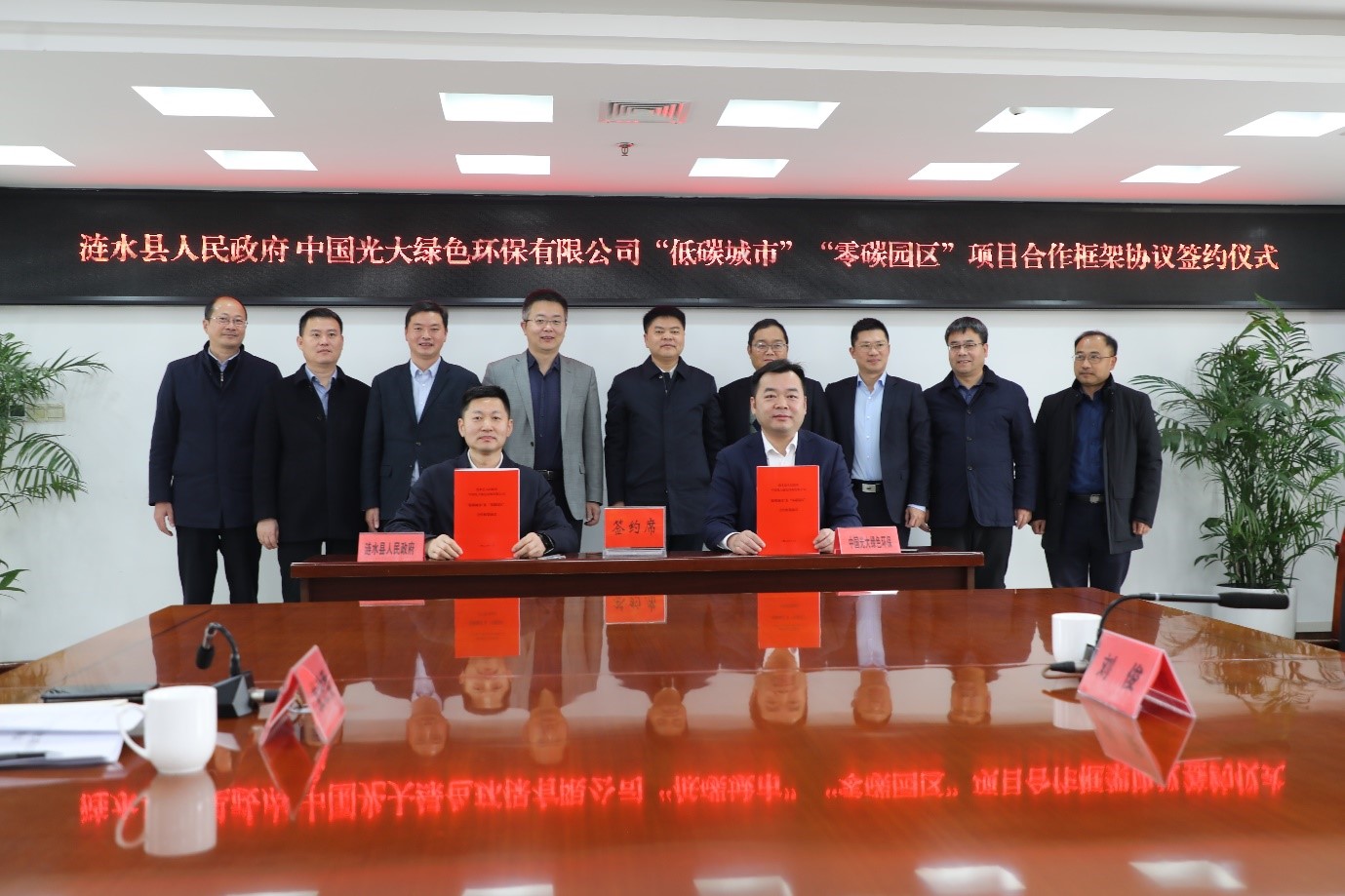 According to the agreement, both parties will cooperate on the principle of complementary advantages, mutual benefits, long-term cooperation and common development, in combination with the implementation of national and regional industrial strategies and relevant requirements. The parties will collaborate on the solar energy power station, energy storage power station, intelligent charging and switching facilities, cooling and thermal storage facilities, energy consumption monitoring, carbon monitoring, carbon emission reduction, and the establishment of urban virtual power plant and digital cloud platform, to build a "low-carbon city" and "zero-carbon park" for the region, and establish long-term and stable strategic cooperative relations to promote the realization of their respective strategic visions.
Everbright Greentech and Lianshui County have a good foundation for cooperation. Thanks to the strong support from the Lianshui County Government, the Company is very honored that the two environmental protection projects invested in and constructed by the Company in Lianshui County are operating steadily and continuously contributing to the improvement of the local environment. Everbright Greentech has rich experience in investment, construction and operation of new energy projects, and is vigorously promoting the digital transformation of its business and willing to provide solutions for the construction of a "low-carbon city" and "zero-carbon park" in Lianshui County. Under the background of the national "dual carbon" strategy, the two parties will further deepen practical cooperation and jointly promote the construction. It is believed that the two parties will create greater opportunities and unveil broader potential for cooperation.